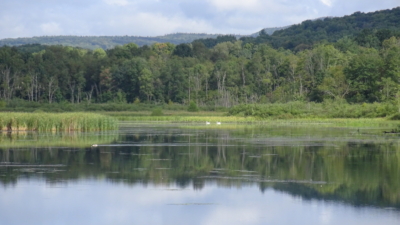 Stockbridge, MA – The Land Trust will hold our annual meeting on Saturday, September 30, 2023 at 10:00 AM. This event is open to members and to the public.  The meeting site will be one of the Land Trust's oldest properties, the Stockbridge Chestnut Preserve on Route 7, south of the town center in Stockbridge, MA. There is ample parking at the site, and light refreshments will be served. Besides very brief business at the meeting, we will hear more about how the Fenn Farm property off of Cherry Hill Road is saved and what its future holds.  We will also discuss how the Land Trust partners with landowners, conservation organizations like Laurel Hill Association and Berkshire Natural Resources Council, and the Commonwealth of Massachusetts to conserve land in Stockbridge.
The meeting's rain date is the following day, Sunday, October 1, at 10:00 AM.
Lastly, we would very much like to hear from anyone who might be interested in joining in our work to preserve and improve our wonderful town. If you would like to learn more about opportunities to become involved, please email us at info@stockbridgelandtrust.org.

About the Stockbridge Land Trust:
The Stockbridge Land Trust is a nonprofit corporation that was established in 1987.  It has a fifteen-member governing board and an active membership of over four hundred local residents and friends.  The mission of the Land Trust is to encourage and promote the preservation of land and the natural, historic, and community resources in the town of Stockbridge – including open space, forest land, farmland, wetlands, waterways, historic structures, and affordable housing.
For additional information, the Stockbridge Land Trust can be contacted at PO Box 1063, Stockbridge, MA 01262 or via email at: info@stockbridgelandtrust.org.
Directions to the Chestnut Preserve:
Starting at the Red Lion Inn, head south on South Street/Route 7 and across the Housatonic River. At the top of the railroad overpass, Ice Glen Road is on the left and a large wetland area is beyond it. Just past the wetland, the northern entrance to the property is marked by a stone post with green-leaf sign: STOCKBRIDGE AMERICAN CHESTNUT PRESERVE.